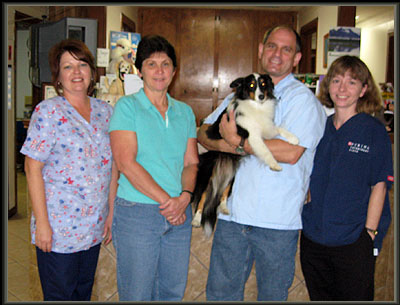 Virginia LeGros (receptionist/tech), Tracy Hogan (receptionist/tech)
Dr. Paul Cheramie D.V.M. and Cindy Cheramie (office manager/tech)
Jennings Animal Hospital gives all our patients the highest quality medical and surgical care, treating each pet as if it were our own. We are your "partners in pet care," and we're happy to provide support and information enabling you to give your pet the best possible care at home, including proper nutrition, shelter, exercise, and plenty of "T.L.C."
Dr. Paul Cheramie and his wife Cindy both own and operate Jennings Animal Hospital located at 706 N Main St. in Jennings, LA . Our clinic regularly treats dogs, cats, reptiles, birds, rabbits, chinchillas, guinea pigs, hamsters, mice and rats. We also treat the occasional sheep, goat, pig, horse and cow. Dr. Cheramie was the track veterinarian at Evangeline Downs Racetrack for nine years.
Good communication between doctor and owner is a very important part of pet care, so we encourage you to ask us questions about the treatment we give your animal. We promise to give you the information you need to make well-informed decisions regarding your pet's health, and to set your mind at ease, giving you the personal attention that you and your pet deserve as part of the JAH family.
In addition to health care, Jennings Animal Hospital offers quality food and pet care products for optimal health care for your pet. All products are top quality and will provide health benefits for your pet. We will provide guidance regarding your pet's nutritional needs for each life stage, including dietary requirements for growth, weight maintenance and weight loss. We also recommend specific veterinary prescription diets for depending upon your pet's health needs.