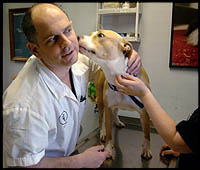 Dr. Paul Cheramie D.V.M.
Dr. Cheramie was born and raised south of New Orleans in the small town of Golden Meadow, La. He graduated form South Lafourche High School in 1983 and enrolled at LSU. The decision to become a veterinarian combined his love of animals with his interest in medicine. He graduated in 1989 with a degree in animal Science and in 1993 with his D.V.M. After working for three mixed animal practices, he opened Claws and Hooves Animal Hospital in 1996 and worked for nine years as the track veterinarian at Evangeline Downs Racetrack.
He met his wife Cindy in 1993. They were married in 1996 in Jennings, where they currently live. They purchased Jennings Animal Hospital in August, 2005. Dr. Cheramie divided time between his two hospitals before closing Claws and Hooves Animal Hospital, June 1, 2009. He is a member of the AVMA, LVMA, AAVA and the Knights of Columbus. Continuing Education meetings and veterinary journals keep him up to date with the latest advances in Veterinary medicine.

In Dr. Cheramie's spare time he loves wood working, biking, gardening, body building, and walking his dog Sadie with his wife. He and his wife are also members of "ARF" Animal Relief Foundation, now called ARF'N ANNIES and also aid in the Animal Rescue Foundation of Louisiana, ARF-LA .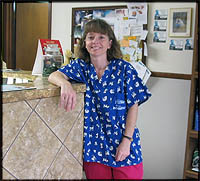 Cindy Cheramie Co-Owner/Office Manager/
Veterinary Assistant
:
Cindy graduated from Tioga High School in 1985 and recieved a B.S. from Northwestern State University in 1989. Married to Dr. Cheramie since 1996. Cindy worked as a full time school teacher from 1989-1996 and part time teacher form 1996-2005. She was a certified Emergency Medical Technician for six years. She has 16 years experience in raising exotic animals. Cindy filmed 10 shows for Fox's international televised Pet Play House. Worked and Co-owned Claws and Hooves Animal hospital from 1996-2009. Cindy works and currently co-owns Jennings Animal Hospital since August 23, 2005. She was a member of Big Brother Big Sisters for over 15 years and was big sister of the year in for the Jennings area in 1995.

Cindy's personal pets includes Sadie the Shetland Sheepdog and six chickens, one of which is 15 years old. In her free time, Cindy enjoys gardening, biking, co-ed softball and walking her dog Sadie.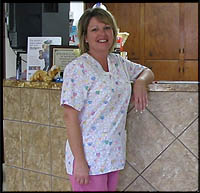 Virginia LeGros Receptionist/
Veterinary Assistant
:
Virginia graduated from Lake Arthur High in 1982. She began working in the medical field over 20 years ago, first as a dental assistant in 1985 and as a receptionist for Dr. Amanda LaCombe in 1999, before joining the JAH team. Virginia is married and has two children and a granddaughter.

"I've grown up and been around animals all my life. I enjoy being around them and enjoy my job".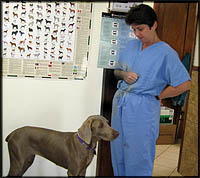 Tracy Hogan Receptionist/Veterinary Assistant:
Tracy graduated from LSU in 1978 with a bachelor's degree in agriculture. In 1979 she married Allen, a county agent with LSU. She worked for Dr. James Holmes in Ville Platte, LA. for 7 years before moving to Jennings. She has been with Jennings Animal Hospital since 1990, (first with Dr. Reno Petry and since 2005 with Dr. Paul Cheramie). She enjoys gardening and owns a Weimaraner (Pity the fool!).